At MECC, we're always inspired by great leadership. In our work, with our partners, and in people we meet along the way, we've come to realize that great leaders share certain qualities. Even in our budding work with DiSC and Five Behaviors, it's easy to see that the underlying foundations of successful teams and their members are the same ones that make great leaders just that, great. Here are some of the qualities we see the most in leaders we greatly admire.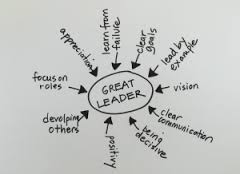 Passion
Successful leaders aren't only passionate about their work, but for the people who make the work possible. Often times, inexperienced leaders can misunderstand their authority for power. Of course leaders have some kind of power, whether it's making the final decision, or taking a risk, but true leaders see their position as an opportunity to shape and mold their employees to be great leaders. Employees who are mentored by leaders often outgrow their positions and at some point, find themselves ready to leave and embark on new possibilities. Great leaders encourage this. They find passion in what they do while helping others find theirs too.
Creativity
SPOILER: Great leaders don't have all the answers. That's why exceptional leaders know the value of working with people who challenge their thinking, who are creative, and smart. Where leaders lack, their team should make up. The most common misconception of leadership is when it's equated to genius. Having a million-dollar idea doesn't make you a great leader. The difference? Having million-dollar employees who are encouraged to take risks and think creatively.
Transparency
Successful leaders know their weaknesses and aren't afraid to admit them. When leaders admit their own weaknesses, their teams become stronger, more transparent, and more committed to the vision and goals of the organization. Great leaders look for teachable moments; moments where they can use their experience (failures, successes, mistakes) to teach and connect with employees.
Embrace Conflict
Diverse teams and excellent leaders know the true power of productive conflict. Engaging with different points of view doesn't always build consensus but it will almost always lead to buy-in. The more teams voice their opinions, listen to others, and understand why they're doing what they do- the more successful they will be. Great leaders use conflict to drive creativity and results.
Which leaders are inspiring you?